Okay, I didn't really have anything to blog about today so I stole something from a fellow blogger.
Biscuit
, I have to give credit. Thank you for giving me something to do while I was putzing around the internet at 11:00 last night.
Here's a quiz to tell you what percentage of the population you are smarter than. Or dumber than, depending on your point of view.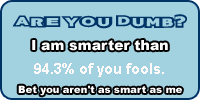 Am-I-Dumb.com -
The Dumb Test

I will warn you that before it gives you the results you will have to go through about 478 pages of advertisements. I think that's the real quiz. Have a great weekend. I'll be busy putting away Halloween decorations.